WHAT ARE SMOOTH MONO THREADS
Smooth threads are absorbable poly-lactic (PLLA or Sculptra) threads that can be used virtually anywhere on the face or body. Thinner than hair, the threads are inserted below the skin (sometimes in a basket weave pattern) to elicit a mild injury that the body responds to by adding structural proteins (fibrin, elastin, collagen), resulting in a smoother, plumper appearance.
Poly-L-Lactic Acid (PLLA) is an absorbable suture material, as well as the main ingredient in the injectable skin stimulant, Sculptra. PLLA stimulates both Type 1 collagen and hyaluronic acid. Hyaluronic acid is important for skin moisture and firmness. The results of PLLA threads can last up to twelve months.
WHERE CAN SMOOTH MONO THREADS BE USED
At Beaux Medspa, we use PLLA Sculptra threads around the mouth for marionette lines, to the front of the neck, the sides of the neck, abdomen,
chest wrinkles, knees, arms, anywhere there is crepey skin. These smooth threads complement Botox and be done at the same appointment.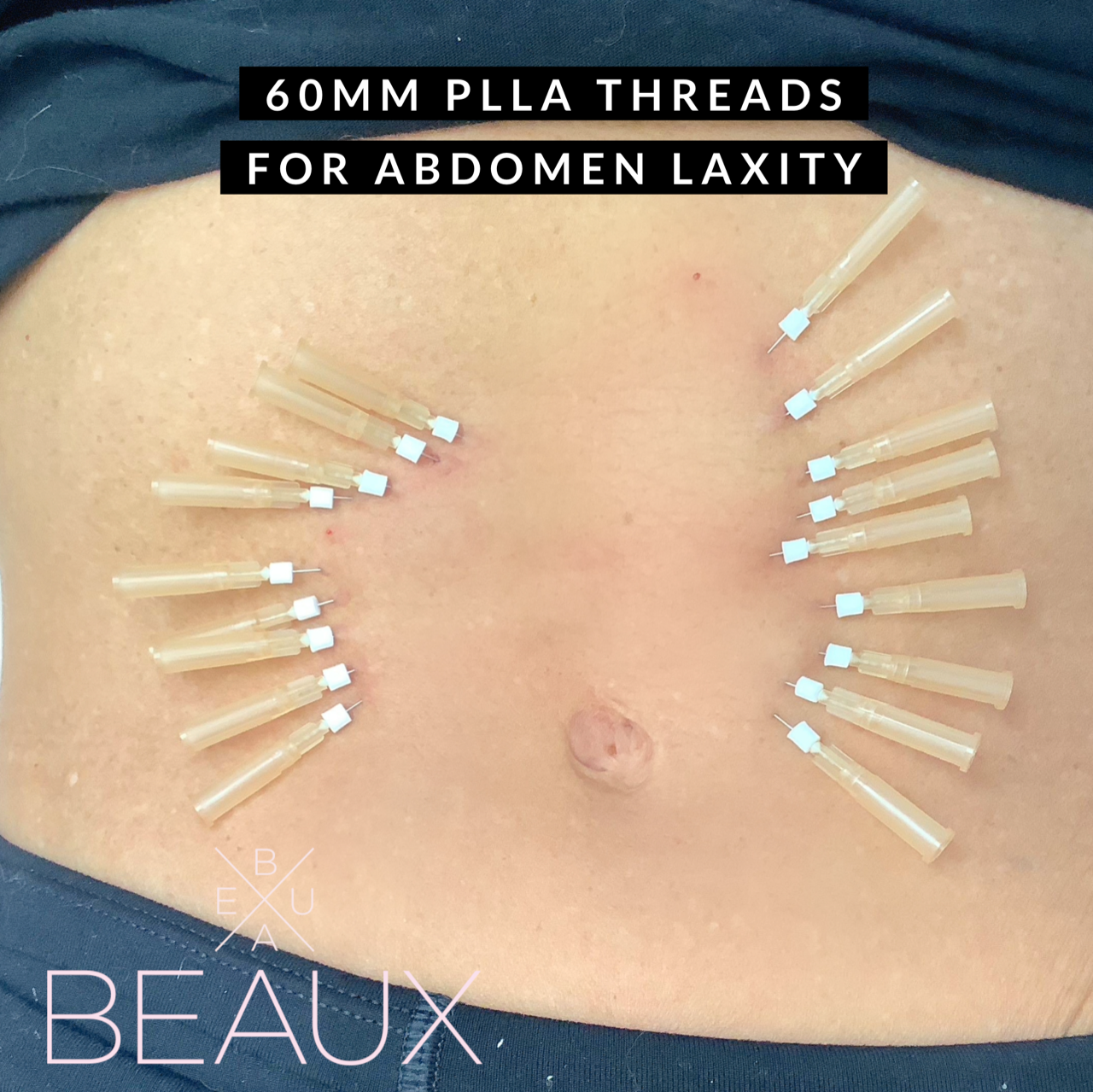 HOW OFTEN CAN YOU GET SMOOTH THREADS DONE?
Smooth threads can be done every three to four months (same as Botox treatments) and can be a great option for certain areas where Botox is not an option, such as cheeks.
Improve skin's elasticity and collagen
PLLA Smooth threads bring back lost blood flow resulting in collagen stimulation
Improves skin texture
Eliminates crepey skin
THREADLIFT IN AUSTIN
For heavier lifting (like a face lifting effect), some patients opt for barbed threads. These sutures tend to be larger and have microscopic barbs etched into them, like the barb at the end of a fish hook. We do not offer this kind of thread, and are not fans of them for many reasons.
CONTACT BEAUX MEDSPA TO KEEP YOUR SKIN HEALTHY
Beaux Medspa is renowned for its skincare expertise and innovative treatment procedures. For more on how our expert staff can revitalize your skin and appearance, schedule a custom consultation today by contacting us online or calling 512.428.5438
WHAT ARE SOME OTHER OPTIONS FOR COSMETIC FILLERS?
Some of the most common fillers are Teoxane RHA fillers, Vollure, Voluma, Volbella and Juvederm Ultra Plus.
Beaux Medspa is passionately committed to reflecting your inner beauty. Using the latest and most advanced procedures for cosmetic and reconstructive surgery, our team offers full body plastic surgery, emphasizing overall health and wellness to the residents in Austin, Westlake Hills, Dripping Springs, Central Texas and the surrounding communities in Texas.
Beaux Medspa: Our patients travel for the top Austin Medspa: Serving Austin, Lakeway, Westlake, Dripping Springs, Georgetown, Buda, Frederiksburg, Waco, Killeen, LaGrange, Central Texas and surrounding areas.