LIP AUGMENTATION
---
When we are young, our lips have a smooth texture and full looking appearance. This can be attributed to the abundance of collagen that keeps our skin soft and supple. As we age, collagen production decreases and outside factors like sun damage and stress can cause the collagen to break down. This leads to the appearance of thin lips and fine lines around the mouth.
Fortunately, Beaux Medspa offers treatments that can restore a youthful appearance to a person's lips using fillers such as Teoxane RHA, Juvederm Vollure, Restylane and more.
Kristin Gunn has an amazing reputation for delivering the most natural looking lip filler in even the most difficult lips. She has developed her own technique for a long lasting result, with much less pain than typical treatments.

The main ingredient in these fillers is hyaluronic acid, which is a natural substance that is naturally found in the body. It adds immediate volume to the lips and is provides long-lasting results.
IDEAL CANDIDATES FOR LIP FILLER
The best candidates for a lip augmentation are individuals who are in good overall health and have realistic expectations about the procedure. Candidates typically undergo lip augmentation to obtain fuller lips and eliminate fine lines around the mouth.
LIP FILLER PROCEDURE
The entire procedure takes just a few minutes. After a topical anesthetic is applied, our award winning, skilled injectors will carefully inject the desired filler into the lips using a very fine needle. Since hyaluronic acid is used, we are better able to control the volume of the lips and there are typically no lasting bumps or imperfections after the lips are healed.
Our Team of Injectors will recommend a filler for you based on your goals. The "Slow Build" where you do a half syringe more frequently is quite popular. This method helps you keep a natural look and builds lasting volume to your lips.
LIP FILLER RESULTS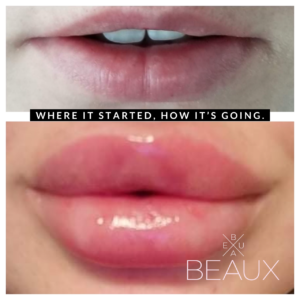 Patients are very pleased with their results after a lip augmentation. Fuller lips are immediately noticeable and there is only about 24-48hrs downtime associated with treatment. Results will improve over the next few days when any swelling diminishes.
Beaux Medspa is passionately committed to reflecting your inner beauty. Using the latest and most advanced procedures for cosmetic and reconstructive surgery, our team offers full body plastic surgery, emphasizing overall health and wellness to the residents in Austin, Westlake Hills, Dripping Springs, Central Texas and the surrounding communities in Texas.