RESTYLANE SILK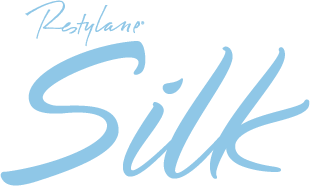 As you age, you may be noticing a few changes. If you're concerned with vertical lip lines around the lips or loss of shape and thinning of the lips themselves, FDA-approved Restylane Silk Austin may be the perfect option for you!
HOW DOES RESTYLANE SILK WORK?
Restylane Silk is clear gel filler formulated with hyaluronic acid, which naturally occurs in your skin. It was specifically developed and approved for use in and around the lips, and its smaller, smoother particles are perfect for adding natural enhancement in these areas.
WE USE RESTYLANE SILK PRIMARILY FOR LINES AROUND THE LIPS
Reducing appearance of vertical lines above the upper lip
Improving the shape and definition of the upper lip line
Smokers lines
Lipstick lines
For patients over 21, Restylane Silk Austin is a safe and effective lip enhancement option that can last up to six months. Treatment is very quick and comfortable, and you should begin seeing improvement over the course of two weeks.
WHAT OTHER OPTIONS ARE THERE FOR FILLERS?
Some of the most common fillers are Vollure, Voluma, Volbella and Juvederm Ultra Plus.
Beaux Medspa is passionately committed to reflecting your inner beauty. Using the latest and most advanced procedures for cosmetic and reconstructive surgery, our team offers full body plastic surgery, emphasizing overall health and wellness to the residents in Austin, Westlake Hills, Dripping Springs, Central Texas and the surrounding communities in Texas.
Beaux Medspa: Our patients travel for the top Austin Medspa: Serving Austin, Lakeway, Westlake, Dripping Springs, Georgetown, Buda, Frederiksburg, Waco, Killeen, LaGrange, Central Texas and surrounding areas.