RESTYLANE AUSTIN
Cosmetic dermal fillers can make subtle differences or big ones! The selection, combination, and placement of fillers (individualized for each person) is the key to a successful and natural looking result. Beaux Medspa is pleased to offer the full range of cosmetic fillers including all of the Galderma fillers such as the Restylane brands, as well as all others approved by the FDA in the USA. In addition, we employ only the top injectors in town to make sure you are in the best hands possible.
WHAT IS RESTYLANE?
Restylane is a safe and natural dermal filler that restores volume and fullness to the skin to correct facial wrinkles and folds. A hyaluronic acid based filler ( which is a natural and very important part of skin structure), Restylane's job is to replace the natural hyaluronic acid that diminishes with age – or was insufficient to begin with, as is the case with thin lips.
HOW DOES RESTYLANE AUSTIN WORK
Since Restylane Austin cosmetic dermal filler is made of hyaluronic acid, it draws water to itself which is where the massive hydration magic happens. The hyaluronic acid gel creates volume in your face, giving it a healthy, youthful appearance.
When Restylane is injected directly into areas where the body's support structures have been weakened, depressions can be raised to the level of surrounding skin. This smooths and minimizes facial lines and most types of scars. In addition, skin texture is improved and has a softer and more even tone.
WHAT TO EXPECT IN A RESTYLANE APPOINTMENT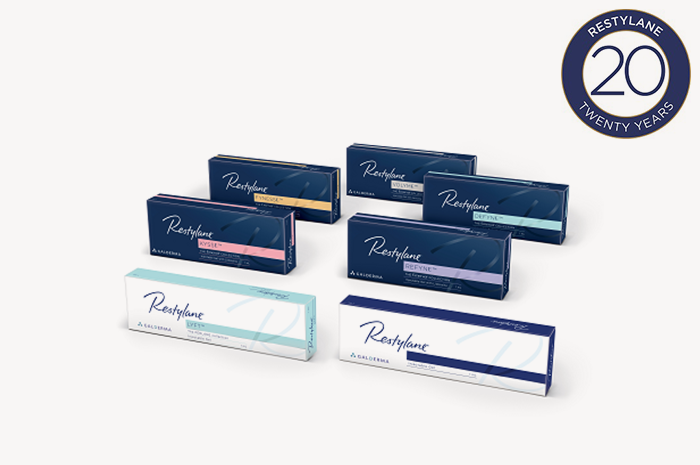 Restylane is injected directly into your skin in tiny amounts by a tiny little needle. A Restylane treatment will actually fill the depressions in your skin and smooth out the skin's surface, resulting in the appearance of a more youthful complexion. Experts in their field, our injectors are good and you will feel minimal discomfort. There is lidocaine in the filler for an even more comfortable experience. The procedure is simple and quick, and results are practically instantaneous.
HOW LONG DOES RESTYLANE LAST
Restylane Austin lasts between six and twelve months depending on where it's injected and which type. With a timed program of injections, you can see effects for up to 18 months.
WHERE CAN RESTYLANE BE USED?
The areas most commonly treated are:
The area between the eyebrows
The nasolabial folds
The area around the mouth
Lip border definition
Jowl area
CAN RESTYLANE BE USED ANYWHERE?
Restylane Austin is an excellent wrinkle filler and lip volumizer, but like any filler, it has limitations. If you are experiencing the hollowness in your face that comes with fat loss (again, a natural result of aging for many women and men), you may want to explore a re-volumizer like Sculptra. Sculptra is a collagen-promoting micro-particle implant that is injected deep in your skin. Results are not immediate as it takes a number of months to become fully evident, but the replaced fullness is very long lasting.
COMBINING RESTYLANE WITH BOTOX
In many instances, we will also recommend combining Restylane with BOTOX Cosmetic for enhanced results. By preventing extreme muscle movement, BOTOX® Cosmetic helps the Restylane last longer. It's a synergistic effect that seems to prolong the positive effects of both treatments.
WHAT OTHER COSMETIC FILLERS ARE THERE?
Some of the most common fillers are Vollure, Voluma, Volbella and Juvederm Ultra Plus.
Beaux Medspa is passionately committed to reflecting your inner beauty. Using the latest and most advanced procedures for cosmetic and reconstructive surgery, our team offers full body plastic surgery, emphasizing overall health and wellness to the residents in Austin, Westlake Hills, Dripping Springs, Central Texas and the surrounding communities in Texas.
Beaux Medspa: Our patients travel for the top Austin Medspa: Serving Austin, Lakeway, Westlake, Dripping Springs, Georgetown, Buda, Frederiksburg, Waco, Killeen, LaGrange, Central Texas and surrounding areas.