RESTYLANE REFYNE & DEFYNE
---
Restylane Refyne and Restylane Defyne: Say so-long to laugh lines
Restylane Refyne and Restylane Defyne are the latest generation of Restylane fillers. These two products help smooth out deep laugh lines, such as nasolabial folds and marionette lines—and patients love how natural their results look.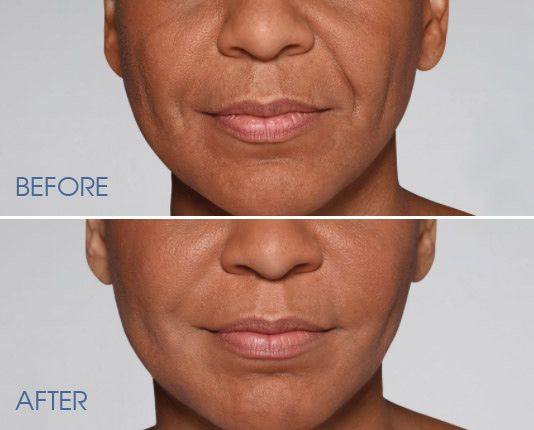 What makes these facial fillers different from other dermal fillers in the market is that Refyne and Defyne contain HA crosslinking using XpresHAn technology to provide natural-looking results. It is a truly innovative way to integrate the filler within the tissue.
Both products utilize a "flexible" gel that provides natural movement and support, meaning you will be able to express yourself naturally after treatment. Restylane Refyne is a great option for treating moderate-to-severe facial wrinkles and folds, while Restylane Defyne may be recommended to address deeper, more severe creases around the mouth and nose.
Both Refyne and Defyne can last for up to 12 months, at which point you'll need to return for a maintenance appointment.
DO RESTYLANE REFYNE AND DEFYNE HURT?
These facial fillers contain Lidocaine, which will numb the areas once injected. While the discomfort is minimal, we will do our best to make your treatment comfortable. We provide squeeze toys and can also use a numbing cream to minimize the discomfort, especially when injected into highly sensitive areas.
WHAT IS THE RECOVERY TIME FOR FACIAL FILLERS?
There is no required downtime for Restylane Refyne and Defyne face fillers. You can return to work or to your normal daily routine after the treatment. You may experience some bruising and swelling, but you can usually conceal them with makeup easily.
ARE RESTYLANE REFYNE AND DEFYNE SAFE FILLERS?
Yes. Refyne and Defyne face fillers contain hyaluronic acid, which the body produces naturally. Additionally, even though Restylane Refyne is new in the US, it has been in use in Europe since 2010 under the brand name Emervel.
WHAT ARE SOME OTHER OPTIONS FOR COSMETIC FILLERS?
Some of the most common fillers are Teoxane RHA fillers, Vollure, Voluma, Volbella and Juvederm Ultra Plus.
Beaux Medspa is passionately committed to reflecting your inner beauty. Using the latest and most advanced procedures for cosmetic and reconstructive surgery, our team offers full body plastic surgery, emphasizing overall health and wellness to the residents in Austin, Westlake Hills, Dripping Springs, Central Texas and the surrounding communities in Texas.
Beaux Medspa: Our patients travel for the top Austin Medspa: Serving Austin, Lakeway, Westlake, Dripping Springs, Georgetown, Buda, Frederiksburg, Waco, Killeen, LaGrange, Central Texas and surrounding areas.