---
PREGNANCY FACIAL
For some moms-to-be, your skin sidesteps the coveted pregnancy glow and, instead, becomes dry and irritated.
Hormone changes can cause the face to become dry, losing moisture and oil, which in turn can cause the skin to feel itchy, red and irritated.
Our Master Estheticians have an amazing pregnancy safe facial for pregnant and nursing moms that will give you a glow using ingredients like rosehip seed, lactic acid, and azelaic acid to leave you relaxed and glowing! 60min
$175 PERFECT gift certificate for the baby shower!
---
DERMAPLANING W/ JELLY MASK
Dermaplaning is a patient favorite at our medspa. Not only does it scrape off the dead skin cells, but it also eliminates peach fuzz that can cake up in makeup. By ridding these elements you are left with a smoother, brighter complexion.
The Jelly Mask locks in hydration, shrinks pores and gives you a Red Carpet Glow (and a great pic for Instagram!)
$99 45 min
---
MASSETER BOTOX | TMJ, SLIMMING
Do you grind or clench your teeth? Botox or Daxxify may help you. It helps in most cases of bruxism and clenching, unless your bite is off. Then you need a dentist! We recommend Dr. Cook at Austin City Dental.
Botox or Daxxify also has mild slimming effect on the jawline around the masseter area around the 2-week point. *If you have heavy skin or fat in this area, you may not notice a slimming effect.
$299 limited qty available (30 units Daxxify or Botox)
---
SKINTYTE LASER
Finally a non invasive solution to crepey and loose skin that works on all areas of the face and body. Not everyone is a candidate for this. Mild – Moderate laxity is great. Lotssss of laxity is probably surgical! See Dr. Trussler for that!
SkinTyte is a skin tightening treatment that improves skin laxity and the appearance of fine lines & wrinkles, all with no pain & no downtime!
Recovery: none! It feels like a warm massage and you are just a little pink afterwards from increased blood flow.
20% off Packages of 6
Call for pricing per area.
---
CHEMICAL PEELS: SKINCEUTICALS + SKINMEDICA + VI-PEEL w/ BOOSTER
We have so many chemical peels to choose from. Depending on your skin type, allotted downtime and your concerns, we have a peel for you!
Often peels are scary to new people who have never tried one. While they are a commitment, sometimes there is nothing better for your skin. Peels are not great for people who are pickers. I see you over there…
$199 ANY VIPeel with Added Booster
$150 Skinceuticals TCA or Advanced Peel
$125 SkinMedica Rejuvenize Peel
more information about chemical peels…
---
LASH TINT, BROW WAX AND TINT
First, one of our estheticians will wax and/or tweeze your brows to a beautiful shape. Then, you will be color matched. Tinting will embolden your eyelashes and eyebrows to give you a fresh and natural look. Our lash and brow tint combo is perfect for people who:
Have light-colored eyelashes or eyebrows.
Have thin or fine eyelashes or eyebrows.
Are looking for makeup-free color for up to 4wks
$65
---
LIP MAKEOVER PACKAGE
LIP MAKEOVER PACKAGE
Fall in love with your cupid's Beaux!
Whether you just want to build some volume, fix asymmetry, see more lip when you smile, or just smooth out the wrinkles… We can help!
We perform 100's of lip treatments per month here, and know what it takes to make them look natural and match your features.
$525 any FULL SYRINGE LIP FILLER w/
a Botox Lip Flip (same appt only)
*cannot save or split syringes. Stock up and save.
more information about lip filler…
---
REFRESH THE CHEST PACKAGE
This is one of our most popular packages every year.
This package includes:
• one BBL to the chest / decollete
• one NanoLaser Peel or CoolPeel to the decollete
• one Halcyon CBE Ferulic Acid
$699 *Must be done in one appointment. No sun or spray tan one week before or after.
DARKER SKIN TYPES:
• two CoolPeel to the decollete
• one Halcyon CBE Ferulic Acid
$699 No sun or spray tan one week before or after.
CALL TO BOOK 512.428.5438
---
BBL PACKAGE
A BBL Photofacial is a corrective phototherapy treatment that uses Broadband Light (BBL) to target signs of aging, sun damage, and other skin conditions.
This process helps skin become more clear and acne free, even toned and more vibrant. BBL treats brown pigmentation such as freckles and age spots as well as vascular issues such as redness, small blood vessels, and rosacea.
*not everyone is a candidate for BBL. Consult required.
$699 PACKAGE OF THREE for Face + Neck
$999 PACKAGE OF THREE for Face + Neck + Chest
CO2 COOLPEEL PACKAGE
CoolPeel is a revolutionary laser that helps to improve the appearance of sun damage and signs of aging. Due to the minimal downtime needed and the gentleness of the technology, it's an ideal treatment for regular skin maintenance to keep your skin looking flawless for years.
The number of treatments will depend on your treatment goals and the level of correction needed. Most people sign up for 3 monthly treatments.
$1200 Package of Three Face + Neck
$1800 Package of Six Face + Neck
$899 Package of Three Under Eyes
---
DAXXIFY WRINKLE SPRINKLE
BEAUX was selected in the top 1% of providers in the US to preview Daxxify. Daxxify is the same neurotoxin we're all familiar with and have been using with Dysport, Botox, and Xeomin but the key difference is that there is a peptide attached to the neurotoxin.
Daxxify uses a peptide that is making it last longer, but it also means that Daxxify is the first vegan neurotoxin on the market.
Daxxify at equivalent units to the others lasts about 4mo. Daxxify at higher doses lasts 6-9mo.
BOOK AN APPOINTMENT TO TRY IT 512.428.5438

GIFTS & GIFT CERTIFICATES
Everyone's favorite present, Gift Certificates always fit!
Available for any service, package or amount. Comes with envelope or digitally emailed to you, whatever you prefer.
Top off your GC purchase in a cute little bag with one of our new Creative Energy Candles (that are also a healthy body lotion) or a bar of Soap De Jolie Hand Crafted Soap  for a thoughtful gift!
Candles $24
Cold Process Soap $7
---
REVIEW US ON YELP OR GOOGLE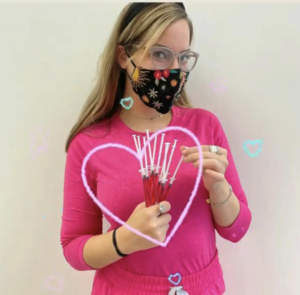 Show us your YELP or Google review for a complimentary B12 or Skinny Shot.
We appreciate you! XO
Limit one per person.
MEMBERSHIPS
Check out our Memberships!
Want to save some money while taking great care of your skin? Check out the Memberships page and join our VIP crew! Choose one from the list monthly, plus get a cool b-day treatment on your special day!
Click HERE for more info!