AUSTIN BOTOX & DYSPORT
---
Have you been thinking about getting botox? Maybe you've noticed unwanted wrinkles or creases appearing on your face, or (I hear this all of the time) maybe you're starting to look like your parents! In Austin Botox can be placed delicately so that you still look like yourself, only a little bit rested.
Austin Botox is the most popular cosmetic procedure in the US. Im sure you've probably heard of at least one friend or family member talk about the results of their Botox injections.
As one of the top Botox providers in Austin, Beaux Medspa can help you feel better about fine lines and wrinkles while still looking like yourself. Click here for Botox and Filler Rewards Programs!
WHAT AREAS CAN BE TREATED WITH AUSTIN BOTOX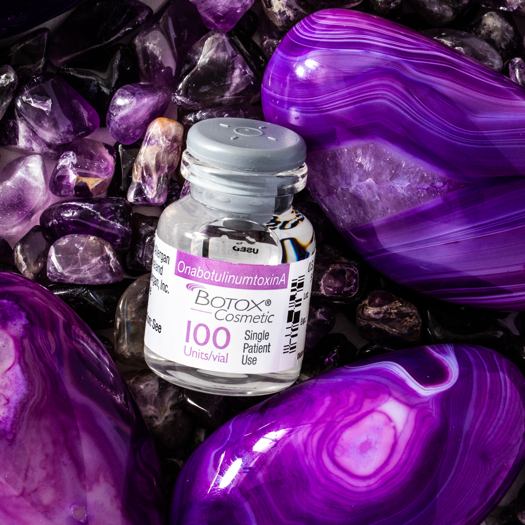 If you're looking for a treatment for fine lines and/or wrinkles in Austin, the Botox providers at Beaux Medspa may be your best option. Botox can be used to treat very specific and targeted areas of aging on the face. Some of the most common areas of the face that we treat with Botox are:
Vertical lines/frown lines between the eyebrows
Forehead or worry lines
Crow's feet around the eyes
Bunny lines on the nose
Smoker's lines (vertical lines around the lips)
Dimpling of the chin ("peach pit" chin or peu D'Orange chin)
Vertical neck bands
BOTOX FAQs
---
HOW DOES BOTOX WORK?
When Botox is injected into an area of concern, it causes the muscle to weaken and relax, effectively stopping the "folding" of the skin that happens when you make an expression. Over time, this repetitive creasing of the skin will form a wrinkle. The Botox stops the ability to crease the skin in a given area, which then stops the wrinkle formation.
WHAT TO EXPECT DURING AN AUSTIN BOTOX TREATMENT
At BEAUX Medspa, we use a tiny insulin needle to inject small amounts of Botox into each area. The number of injections administered will depend upon the size of the area being treated and the strength of the targeted muscle. It usually takes about 5 minutes for an Austin Botox treatment, and Botox can be done on your lunch break!
IS THERE DOWNTIME WITH AUSTIN BOTOX
After receiving a Botox wrinkle treatment in Austin, most of our patients resume their normal routines immediately. You should avoid rubbing the treated area as this may cause the product to move to nearby muscles. Some patients experience minor redness or bruising at the injection site, which can be covered with makeup.
WHEN DO YOU SEE BOTOX RESULTS?
The results of Botox are typically seen within 3 to 10 days. You can expect the results to be maintained for about 3 to 4 months before you need a touch up. Some of our Austin Botox patients who have been treating for several years report that the results last longer and find they are able to extend the interval between injections up to 4 – 5 months.
IS BOTOX SAFE?
Exceedingly popular in Austin, Botox is one of the safest cosmetic treatments available today. Contrary to popular belief, the Botox protein itself is not a poison as it has been modified extensively into a pure form with a very dilute concentration.
When injected properly into the muscle, it does not enter other areas of the body. To increase the safety of this treatment, we encourage patients to only undergo Botox with an experienced provider with amazing reviews.
BOTOX CONSULTATION AUSTIN
If you're ready to learn more about how Botox can rejuvenate your appearance, we encourage you to contact us today to set up an initial consultation. During this consultation, one of our providers will answer any questions you may have, assess your concerns and help you determine whether Botox can provide the results you desire.
HOW MANY TREATMENTS ARE NEEDED?
The number of procedures required will be based upon your individual procedure goals and the overall health of your skin. Most patients receive a series of three procedures spaced about four weeks apart.
WHAT TO DO BEFORE AUSTIN BOTOX INJECTIONS
If you are coming in for a consultation and/or treatment, please follow these guidelines:
For 3-4 days before treatment, please avoid the following medications and supplements: Aspirin, Advil, Motrin, Ibuprofen, Aleve, Naproxen, Excedrin (all OTC pain pills except Tylenol), vitamin E, Vitamin A (Tretinoin, Retin-A, Renova, Differin, Tazorac, Triluma), Gingko Biloba, Omega-3 fatty acids, cod liver oil, CoQ10, garlic and ginger.
Do not drink alcohol 24-48 hours before treatment.
ARE BOTOX INJECTIONS PAINFUL?
There is minimal discomfort with Botox. Upon request, we are happy to provide ice-packs and/or topical numbing cream prior to treatment to ensure comfort throughout the procedure. Since Botox® needles are so small and administered in minute doses, injections are normally well tolerated by our patients. BEAUX Medspa uses extreme care when performing Botox® injections in Austin to optimize your comfort throughout the session.
Beaux Medspa is passionately committed to reflecting your inner beauty. Using the latest and most advanced procedures for cosmetic and reconstructive surgery, our team offers full body plastic surgery, emphasizing overall health and wellness to the residents in Austin, Westlake Hills, Dripping Springs, Central Texas and the surrounding communities in Texas.